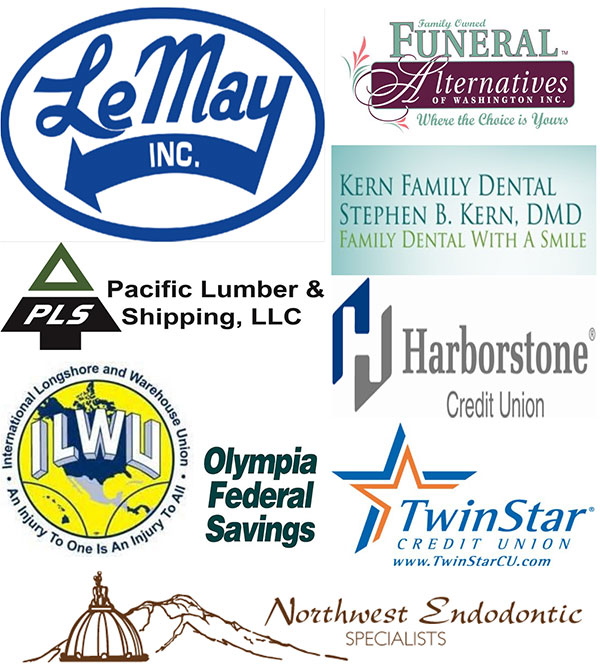 Allen Johnson
Bill McGregor
Heritage Bank
The Kirkbride Group
McDonalds Restaurants
South Sound Bank
Dr. Truyen O'Leary
Tracy Durfeldt
Kevin Evoy
Erin Volz
Friends of the Teddy Bear Tea Party
Fast Signs
Olympia Credit Union
Sally Beckwith
Olympia Area Rotary Clubs
Ten Years Sponsor Acknowledgement
Funeral Alternatives
South Sound Bank
McDonalds Restaurants
Scott Beckwith for being our program chair for ten years.
Clair Ferris from Olympia-Capital Rotary, our Master of Ceremonies.
 Jon Reid Piano Player
Rotary Interact Clubs of North Thurston High School for assisting as our Teddy Bear Tea Party helpers and elves.
Santa and Mrs. Claus for taking time out of their very busy schedule.
 The good folks of Olympia Elks Lodge #186 for their hospitality & support.
 South Sound Reading Foundation for donating the reading book gift and their ongoing support of this event as part of the good they do.
Connie Lovelady of Graphic Concepts Inc. for the incredible Teddy Bear Tea Party logo.
 Donnie Miller Web designer and for maintenance of our web site
All the many Capital Rotarians and friends that volunteered their time and talents to make this event a success.
The staff of Funeral Alternatives for designing and printing the programs.
Face Painting by Jeanine Nordeen, Erin Shryne and Dr. Kern.